Is it possible that a severe biological disaster of worldwide proportions is what it takes for our global population to remember God? Or at the very least, is this a forceful reminder for mankind to be less self-centered, and an opportunity to serve the weakest among us, our elderly and our infirm? Recently, I read a Wall Street Journal article which asked if this crisis would lead to the next Great Awakening. In the article Mr. Robert Nicholson brought out some historical context which helped me understand that religious ups and downs are nothing new.
He writes, "three-quarters of a century has dimmed the memory of that gruesome conflict and its terrible consequences: tens of millions killed, great cities bombed to rubble, Europe and Asia stricken by hunger and poverty. Those who survived the war had to grapple with the kinds of profound questions that only arise in the aftermath of calamity. Gazing at the ruins from his window at Cambridge University, British historian Herbert Butterfield chose to make sense of it by turning to the Hebrew Bible."
"The power of the Old Testament teaching on history—perhaps the point at which the ancient Jews were most original, breaking away from the religious thought of the other peoples around them—lay precisely in the region of truths which sprang from a reflection on catastrophe and cataclysm," Butterfield wrote in "Christianity and History" (1949). "It is almost impossible properly to appreciate the higher developments in the historical reflection of the Old Testament except in another age which has experienced (or has found itself confronted with) colossal cataclysm."
"Americans, chastened by the horrors of war, turned to faith in search of truth and meaning. In the late 1940s, Gallup surveys showed more than three-quarters of Americans were members of a house of worship, compared with about half today. Congress added the words "under God" to the Pledge of Allegiance in 1954. Some would later call this a Third Great Awakening."
The concept that calamities can bring people to faith and houses of worship is an interesting topic to ponder. In looking at several charts, I found that faith and attendance in religious houses of worship increased in America after World War II. I also found that since the fifties the numbers have declined with the exception of protestant groups. As Mr. Nicholson stated so eloquently the horrors of such a traumatic event like war brought people to the throne of God searching for why. Since that time we have not had a great sacrifice of our own personal lives, at least not to that degree or magnitude. Have things become too easy, and have we become too comfortable?
Was it the fear or a search for meaning in the war that brought those in the 1940s seeking? Or was it the realization of the fragility of their mortality? While researching this I came across several recent Pew Research Center articles, and Gallup research articles with eye opening charts.
This first one, ties in well with our question about the Corona calamity. Countries with the shortest lifespan have the highest religious service attendance. We can extrapolate a lot of theories about why that is, but in my mind it is the correlation between the comfort of our lives and our lack of need for God's help. This makes it harder to remember God, Christ, or any Deity. Nations with higher life expectancies tend to be nations with higher incomes per capita, as well as higher standards of living in general. We tend to think when all is well, why do I need God? I have my health and my wealth, what else could I need? But in times of distress we come back on our knees seeking help and answers. Before anyone says I am overgeneralizing, please note that I am simply examining my own personal experiences with God, and thousands of years of written scripture. The Bible as well as the Book of Mormon are prime examples of civilizations that go through a pride/humility, remembering/forgetting cycle with God. The Israelites turned to and remembered God mostly in times of pestilence, famine, and destruction from their enemies. Not always, but mostly.
Several other charts below also show a clear distinction of church attendance/religious affiliation based on age. It is clear by looking at this data that house of worship attendance is down in all age groups. It also makes sense that the older you are, the more you are confronted with your own mortality, the more you think about the next life and what that means. I use to joke with my mom that she was so religious because she was closer to seeing God than I was. Now as I'm older and have kids of my own, I can attest to that reality. When you're young you're hardly thinking about consequences and your future. At least I wasn't.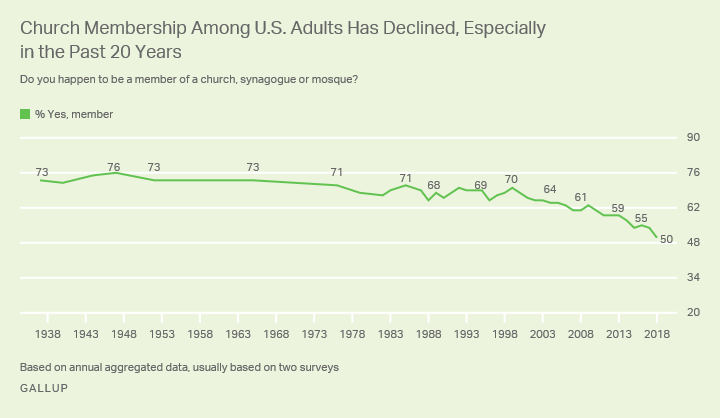 As young people are now confronted with their own mortality, and the possible loss of parents and grandparents, does that lead to an increase in faith or even just spirituality? It's too soon to tell, but in other research I've looked at there was a clear increase in church attendance after events like WWII. That increase was not just in the older, but actually and primarily in younger adults. In fact there were periods after the the second world war where house of worship attendance was just as high for younger adults as it was for the older.
Another point to make is that we see slight increases in attendance during recessions in general. I have a theory that the harder the trial, the more likely we are to have our own personal great awakenings. That can be different for everyone. For some it can be a return to or finding Christ for the first time. For others it can be an awareness of a higher power or the seeking of that power through prayer and meditation, or just a greater spirituality.
I'm not sure how this all plays out in the end from a spiritual and religious standpoint. As a Christian, and someone who recognizes his own personal weaknesses, I at least hope for an increase in my faith, and an increase in my love for my neighbors and fellowmen. Times of trial are opportunities for change. It is my prayer that in the end this leads to us looking outward and upward.